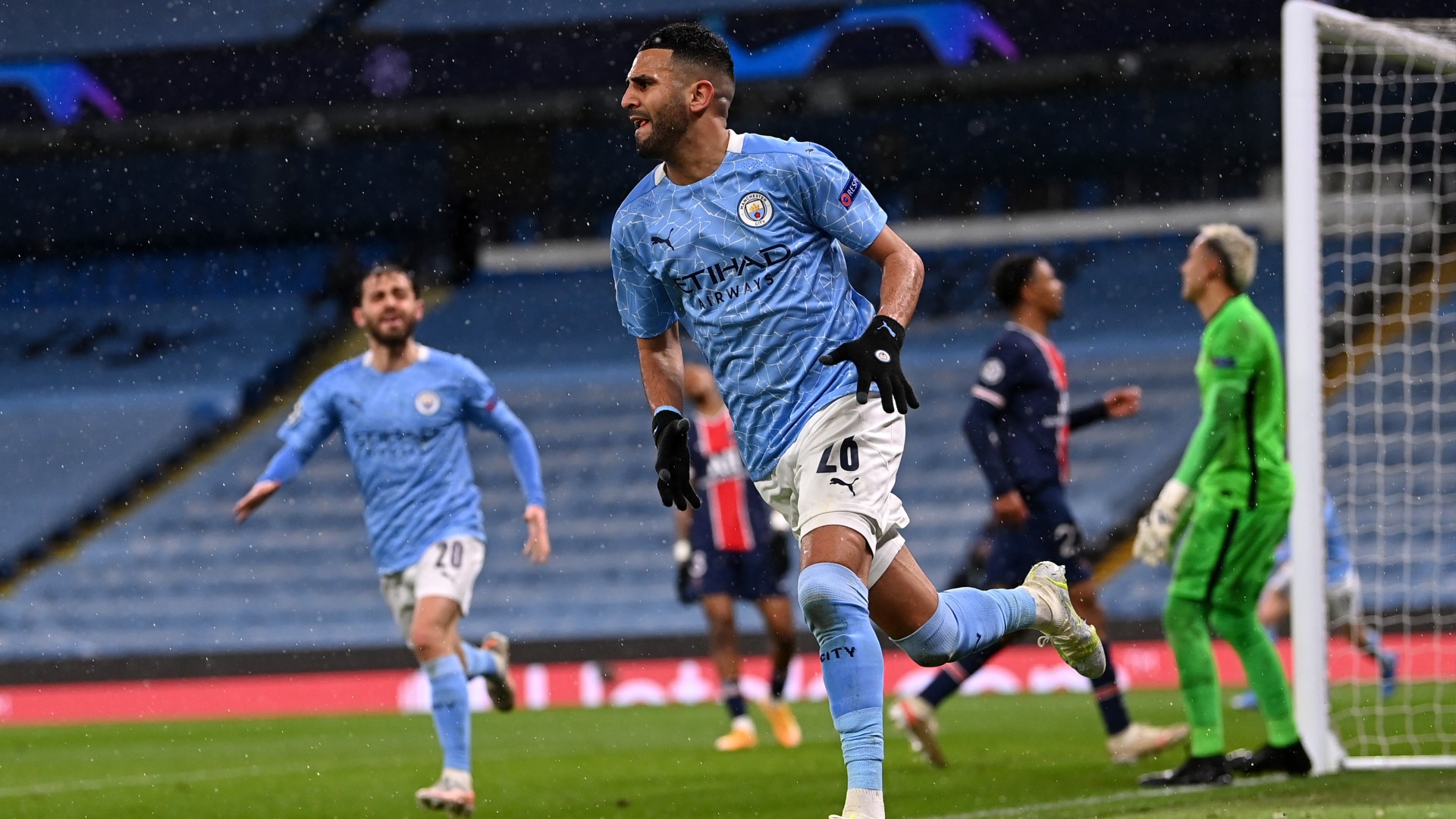 The Algeria international found the net twice as the Citizens silenced the Parisians to reach the Champions League final
Riyad Mahrez has been praised by football fans following his breath-taking performance against Paris Saint-Germain.
The Algeria international was on target twice as Manchester City defeated the Parisians 2-0 to reach their first-ever Champions League after a 4-1 aggregate result.
Having lost the first leg 2-1 at home, Mauricio Pochettino's men travelled to England with the ambition of overturning their deficit.
Editors' Picks
However, that ambition faded into thin air as the 30-year-old scored in each half to send the Ligue giants packing.
Excited with his awe-inspiring display, the world has taken to Twitter to sing Mahrez's praises.  
Mahrez's defensive contribution has been unbelievable.
— Umir (@umirf1) May 4, 2021
Mahrez's defensive contribution has been unbelievable.
— Umir (@umirf1) May 4, 2021
Mahrez has been so clinical as of late 🔥.
A big stage stud! pic.twitter.com/rTZmlu6yvQ
— FPL GREATEST (@FPLgreatest) May 4, 2021
Mahrez has scored some nice Salah goals today
— S (@9squeeze) May 4, 2021
I won't forget when Mahrez was linked to summer last summer and our fanbase was saying no. Not kidding, they actually said no.
— Rk (@RkFutbol) May 4, 2021
legacy game by Mahrez
— Daniel🇳🇬🇳🇬YT: DanUnited TV (@danielogoun7) May 4, 2021
To think Arsenal were close to signing Mahrez once upon a time. Now we're stuck with the likes of Pepe. Incredible
— King (@ManLike_King) May 4, 2021
📸 Mahrez nets again to put Manchester City 4-1 up on aggregate ⚽️#UCL pic.twitter.com/SolMXSJerW
— UEFA Champions League (@ChampionsLeague) May 4, 2021
Ramadan Mahrez is just unstoppable. pic.twitter.com/onSP3E30Ya
— FootballFunnys (@FootballFunnnys) May 4, 2021
One two three viva Manchester City 😂🇩🇿 #mahrez
— HENNI MOHAMED OFFICIEL (@henni_mo) May 4, 2021
Neymar accepting defeat after Mahrez scored again #PSGMCI pic.twitter.com/HuereOuxkf
— King_Alexander (@dhotun) May 4, 2021
Mahrez didn't eat for the whole day knowing he was going to feast on PSG's defence to break his fast.
— Dubois (@CFCDUBois) May 4, 2021
Mahrez on fire.
Sublime finish.
PSG in the mud.
#MCIPSG pic.twitter.com/LAkH3s5hTH
— S.G. (@Holuwalonivic) May 4, 2021
Someone said Mahrez accidentally broke his fast by feasting on PSG 😭😭 pic.twitter.com/8WfiDftlO6
— Madrid fan (@cristiano_peak) May 4, 2021
No player has recorded more goal involvements in this season's #UCL knockout stages than Riyad Mahrez (6). pic.twitter.com/hK2KBKNuI5
— ManCityzens (@ManCityzenscom) May 4, 2021
Mahrez how many goals has PSG eaten???
#MCIPSG pic.twitter.com/NgBMitV8SW
— adrian (@adrianifty) May 4, 2021
Thank God the Afcon is not in June.
We can't deal with this type of Mahrez for now
— Saddick Adams (@SaddickAdams) May 4, 2021
Mahrez is truly is a Big Game Player and a silent Gem for Man City.
Loved how he shows up in the most crucial times for his team pic.twitter.com/KSaZmOKEey
— KD x CURRY BURNER 🎯☔️ (@kdburner30) May 4, 2021
Zinchenko a big shout for MoTM, outside Mahrez. Immense over two legs, with a hot head we can blame on "passion".
— Gary Al-Smith (@garyalsmith) May 4, 2021
Mahrez about to take back the CAF Best Player of the year
— Queen Moseph (@Queenjohn4) May 4, 2021
If Riyad Mahrez doesn't get player of the #UCL tournament then we'll create our own European competition.
Only joking, but…
— Man City Report (@cityreport_) May 4, 2021
Mahrez chilled for a whole season just to smack up PSG. Iconic.
— Zito (@_Zeets) May 4, 2021



Source of the article